Smile Make Over- Importance of Smile
Do you find yourself covering your mouth when you smile because of missing teeth?? Have you mastered the art of dodging selfies and smiling with your lips pursed at social gatherings; because your teeth are crooked or discolored??
It's time to smile again because Smiles are the first thing you notice when you look at photos of friends and family on social media. Now is the perfect time to give yourself a smile makeover.
Needing a few reasons to go for it? Wondering which treatments are best for you? Here's the guide to help you understand and observe your smile more and what you can do to enhance it. For a happy smile makeover, book an appointment with best dentist in Mumbai.
What is a smile makeover? A smile makeover is the process of improving or enhancing the appearance of the smile through one or more cosmetic dental procedures.
Common Cosmetic Dentistry Procedures
1.Teeth Whitening or Teeth Bleaching
Since childhood, we have been taught that teeth should be naturally white. Contrary to this belief, teeth are slightly yellow or greyish. The teeth are covered with 2 different protective layers. The outer one is enamel, and the inner one is dentin. This layer of dentin imparts a slight yellow tinge to the teeth. But many of us are unhappy with this yellow tinge. Apart from this, the teeth tend to stain even from excessive consumption of alcohol, tea, coffee, cigarettes, and wine. This is when the cosmetic dental professional suggest teeth whitening. This procedure is carried out using a bleaching gel, hydrogen peroxide or carbamide peroxide. These products break down and release oxygen molecules that penetrate the enamel and dentin. This procedure can take a few hours to a few weeks.
2.Dental Bonding or Enamel Bonding
This is one of the most common dental procedures that is carried out to fill the chipped, cracked, or stained teeth. The cosmetic dental professional uses a tooth-coloured material, usually composite white dental filling. Because of the use of this material, this procedure is also known as a cosmetic dental procedure. This material is easy to mould and can easily be shaped in any beautiful shape. This material is available in various shades and, after the application, is dried using a high-intensity light or chemical. The procedure is painless and relatively inexpensive compared to other cosmetic dental treatments.
3.Tooth Contouring and Reshaping
This is one of the easiest, non-invasive, and inexpensive cosmetic dental procedures. Shallow pits and grooves, worn tooth edges, chipped teeth, small overlaps, etc., are some of the small dental issues that can be cured with dental reshaping and recontouring. As the reshaping and recontouring usually take in the outermost layer of the tooth, it is also known as "enamel shaping". The cosmetic surgeon uses a polishing instrument and removes a tiny amount of enamel, and the tooth is reformed. Then, this is checked with a dental x-ray to see that the teeth are strong enough to withstand or undergo recontouring. Then finally, the teeth are smoothed and polished. This procedure usually requires a follow-up visit after the first dental visit.
4.Porcelain Veneers
This is one of the best cosmetic dental treatments and a one-stop solution to beautify your smile. They have been marked as the gold standard in common cosmetic dental procedures. Veneers are basically a thin porcelain shell that fits over the facial surface of the teeth. They are made up of composite and or porcelain material. Small dental conditions like crooked teeth, discoloured teeth, or spacing between the teeth are all common dental procedures that can be treated with this method. The enamel of the teeth is removed slightly and then an impression is taken. Then a customized veneer is made from the impressions and is bonded onto the tooth. This is one of the most preferred cosmetic dental procedures for discoloured teeth whose stains do not go with bleaching.
5.Aligners
Many people with orthodontic treatment can only treat kids, but this is not true. With increasing awareness and innovations, more and more adults seek treatment for cosmetic purposes.
6.Cosmetic Dental Crowns and Implants
Dental crowns, most commonly referred to as caps. They are customized according to an individual patient to fit over the whole tooth. They are made up of acrylic and porcelain for aesthetic purposes. Another cosmetic dental procedure: dental implants, is one of the most emerging patients procedures. A metal device made of titanium is surgically placed in the jawbone in place of missing teeth.
The results of the cosmetic dentistry procedures before and after have made tremendous changes in many smiles. Enhanced self-esteem, increased self-confidence, and great teeth make your smile flawless. However, the prime requirement for these dental procedures is to meet a professional dental professional. This is trained and experienced in performing this cosmetic dental procedure on a daily basis. So do not hesitate and get your smile flawless in no time.
Before starting with the smile makeover, your dentist will evaluate your oral health and develop a customized treatment plan and a mock up trial to determine the type of smile makeover treatment you will need.
With the recent advancement in dentistry, dentists can beforehand show you the changes that you can expect to see in your smile after the smile makeover.
Smile makeover surgery is helps boost confidence, project a radiant smile that can lead to increased comfort and success in professional and personal life.
After you've got your dream smile makeover done, it is very important to know how to maintain it. As it is said that," maintenance is the key to success of any treatment!
Ask your dentist about the best way to maintain the smile makeover results along with your oral health and happy smile.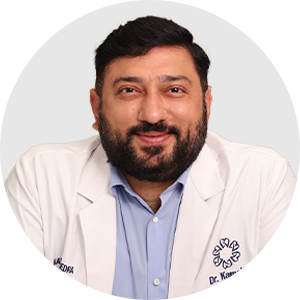 Dr Kamal Odedra
Dr. Kamal Odedra is the leading Endodontist in Rajkot and Porbandar, India with over 11 years of clinical experience in advanced endodontic treatments. His specialty includes Microscopic Endodontics, Cosmetic, aesthetic and Restorative Dentistry.